Museums
An island with such rich history and tradition as Kea could not but have remarkable museums. In the Archeological Museum in Ioulis you will have the opportunity to make a journey in historic and prehistoric Kea through the impressive archeological finds from the excavations performed on the island. In Mylopotamos you will get a taste of Kea's tradition and rural life in the Folklore Museum of Kea.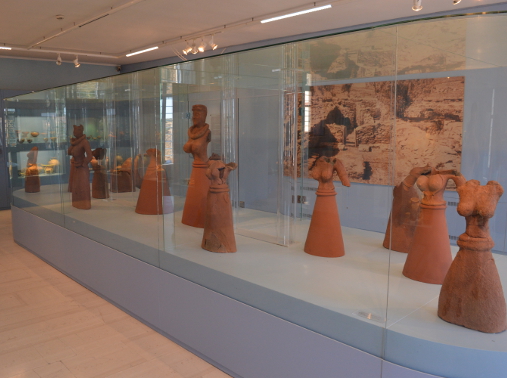 Archeological Museum
On the incline from the Piazza towards the square of Chora,  you will come across the  Archaeological Museum. This is one of the most important museums in the Cyclades, with unique finds from excavations on the island, from the Neolithic period up until the historic period (7th B.C. – 2nd century A.D.). It has been open to the public since the 1970s, while in 2000 it was repaired and extended to welcome new exhibits. The exhibit sections have been organized into themes, covering daily life, worship and burial customs.
Architectural pieces, inscriptions, sculptures, votive reliefs, everyday objects, pottery and coins, provide a representative picture of the island's history. Among them, highlights include the marble protocycladic figurines from the prehistoric settlement of Aghia Irini, the reliefs from the pediment of the temple of Athena at Karthaia and the headless statue of Victory. The renowned Kores, the clay statues of female figures of Aghia Irini, are exhibited in a prominent position in the new annexe, in an oblong curved showcase.
Folklore Museum
In the heart of Mylopotamos you meet the Folklore Museum of Kea, a place dedicated to the preservation and the promotion of Kea's cultural heritage, established in an old stone building of 1845 which originally functioned as an inn. Today visitors may see here a variety of folklore exhibits such as old agriculture tools, objects of domestic use and decoration for the houses of Kea, traditional costumes from the 19th century and photos but also an improvised hydroelectric mechanism from Mylopotamos, constructed in Kea's Enamel Factory in 1950. Outside the museum, surrounded by orange trees, there is a stone theater that hosts cultural events and festivals during the summer.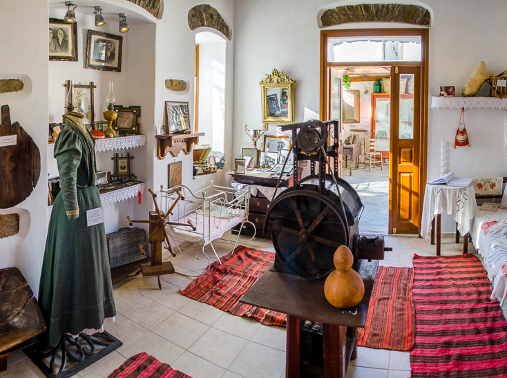 Discover also…