The island
Kea or Tzia is an island full of beauty, cultural tradition and strong contrasts in its geophysical profile, where at distances of 10 kilometers, the island with the mountainous nature conflict peacefully, creating a charming result for the visitor.
Regarded as the "gate of the Cyclades", and indirectly connects mainland Greece with the Cyclades and separates the Archipelago from the South Evian Gulf.
It is the northernmost island of the western Cyclades and the closest island to Attica, located only 16 miles from Lavrio, with which it is connected with daily ferries. Access to Lavrio is easy and feasible, either via Attika Tollway towards Markopoulo, or either via the coastal road Poseidonos Avenue and Athens-Sounion Avenue. The boat trip lasts just 1 hour. Kea has also ferry links with the ports of Kythnos and Syros. The island, has the shape of a "droplet", a total surface of 131 sq. Km., and a perimeter coast of 85 km., and it is the 6th in size Cycladic island, with about 2.500 residents.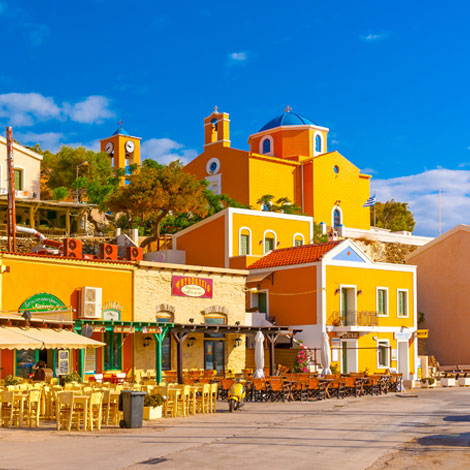 Η κοντινή της απόσταση από την Αθήνα την καθιστά εύκολα επισκέψιμη καθ' όλη τη διάρκεια του χρόνου, για πολλούς Αθηναίους κι όχι μόνο, που αναζητούν διήμερες αποδράσεις ή και πολυήμερες διακοπές. Αποτελεί δε αγαπημένο προορισμό για ιστιοπλοϊκά σκάφη που αναζητούν απάνεμα γραφικά λιμανάκια για ήρεμα σαββατοκύριακα. Παρά την έντονη οικοδομική ανάπτυξη τα τελευταία χρόνια και την παράλληλη σταδιακή τουριστική ανάπτυξη, διατήρησε, ωστόσο, κατά το δυνατόν τον παραδοσιακό χαρακτήρα της. Ενώ το τοπίο έχει εμφανή κυκλαδικά χαρακτηριστικά, έχει συνάμα ιδιαιτερότητες που το διαφοροποιούν από τα υπόλοιπα, όπως το έντονο γεωλογικό ανάγλυφο, η πυκνή της βλάστηση στην ενδοχώρα, η αρχιτεκτονική με τις πέτρινες κατοικίες και την ποικιλία χρωμάτων.

Ανακαλύψτε ακόμα…